April 2nd, 2009 | by nick |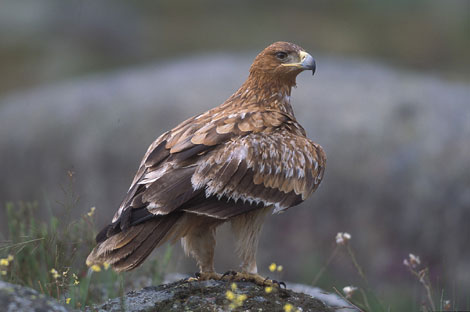 The Spanish imperial eagle (Aquila adalberti) has recovered "spectacularly" over the past 30 years, and is one of the success stories of conservation in Spain, increasing from 38 pairs in 1974 to 253 in 2008. The latest figures are from a study published recently in the journal Oryx and in this interview from Science Daily.
"This study shows that the species has recovered and has responded well to conservation initiatives. Although it has been known for a long time, the study shows once again that this species is highly affected by changes in adult survival rates", Santi Mañosa, one of the authors of the study and a researcher at the University of Barcelona, tells SINC. Some of the most important reasons behind the failure of the Spanish imperial eagle (Aquila adalberti) to increase its numbers have been premature adult deaths resulting from electrocution on electricity lines and the consumption of poisons used to control predators.lthough the major threat to the birds differs from region to region in Spain, Mañosa says that habitat conservation is essential in order for the bird to be able to nest and hunt. For this reason "it is essential to manage the rabbit population well, because this is what makes up its diet during the breeding season in all areas", adds the researcher.
However,
"Things have gone well over these past decades, but this could all be lost within five or ten years if things start to go wrong. It is a question of making improvements – electricity lines continue to pose a serious threat to this species, and efforts to resolve this problem are going very slowly,"
Read complete story in Science Daily
See also: Una red para proteger al águila imperial (El Mundo). "Una hembra de águila imperial ibérica ('Aquila adalberti') ya está incubando en el nido que puede verse, en directo en Internet, gracias a una cámara instalada por SEO/Birdlife en el Parque Nacional de Cabañeros. El macho está buscando la comida. Es una de las 253 parejas reproductoras contabilizadas en la Península Ibérica, un número que se quiere aumentar ahora con una Red de Custodia para que esta majestuosa ave deje de estar en la Lista Roja de especies vulnerables."
Photo above from SEO/Birdlife