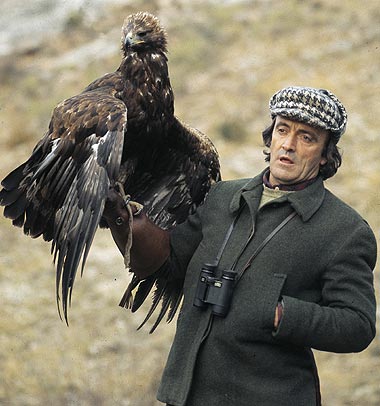 Félix Rodríguez de la Fuente, (Poza de la Sal, March 14, 1928), the great Spanish naturalist and broadcaster, died 30 years ago today. He was killed in a helicopter accident while filming in Alaska on his birthday March 14, 1980.
He was an expert in falconry and animal behavior and spent many years studying wolves, but above all he was a great communicator who captivated Spain in the 1970's, doing more than anybody to promote natural history among the general public. He is best known for the highly successful and influential series El Hombre y la Tierra (1975–1980), which you can watch online here. Millions of homes in Spain were captivated by the series, and there are possibly apocryphal tales of the streets being empty when the episodes were broadcast. The series and his other work played no small part in the change in attitude towards wildlife in general and wolves in particular. Rodríquez de la Fuente used wolves he had raised himself from cubs living in a semi-wild fenced estate for the film. They were different times with inferior cameras than today. But, for all its trickery, the episode on el lobo still stand out as superb and beautiful piece of nature documentary and holds a rightful place in contemporary Spanish folk memory. And his work inspired a whole generation of young Spanish naturalists who work in nature conservation today.
The legacy of his work is continued with the Fundación Félix Rodríguez .
Tags: El Hombre y La Tierra, Félix Rodríguez de la Fuente, Félix Rodríguez de la Fuente biography